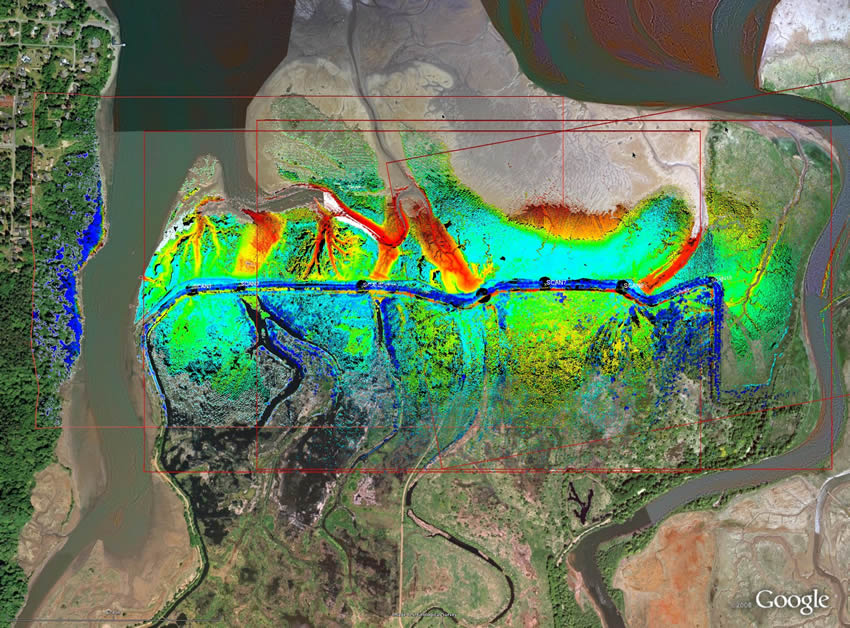 Nisqually Delta LiDAR Survey Data:
Full size image (1 MB) | Google Earth KMZ (2.3 MB)
Study conducted by Dr. Robert Kayen, USGS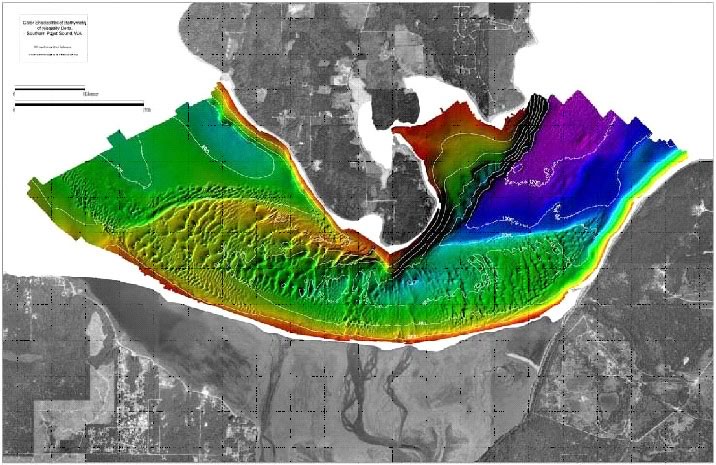 Large-scale restoration projects, like the Nisqually Delta Restoration, have impacts on habitats beyond the areas of the restored area. In this case, the restoration has impacted the surrounding estuary and nearshore environments. USGS Pacific Science Center (E. Grossman) has monitored changes in the estuary, including changes in elevation and habitats, hydrologic processes controlling fluvial and tidal flow, and sediment and nutrient transport.
In addition, high-resolution LIDAR mapping was conducted at 2-3 sites across the delta, as well as delta-wide, before and after dike removal occurred. The top image (above) served as an essential baseline in examining geomorphic change and sediment transport following dike removal. LIDAR images were also collected in 2014, enabling scientists to compare elevation across the delta. (2014 Image coming soon.)
The LIDAR images demonstrated the low elevations across the Nisqually Delta as a result of subsidence from the agricultural dikes. Further research showed that the majority of sediment from the Nisqually River was lost off-shore, rather than being deposited within the Delta (See the 'Sedimentation' page for more details.)  This has greatly impacted elevations within the restoration area, which in turn has implications for plants, insects, fish and birds. Learn more by visiting each page.