The Nisqually Indian Tribe began monitoring salmon habitat and prey availability within the Nisqually Delta years before the restoration took place. They also collected data on the number of fish, as well as the time of year fish were present. This allows for comparisons between populations now and then, and can help indicate the successes and weaknesses of the project.
Initial monitoring occurred from 2003-2006. In all, scientists completed 980 beach seine sets and over 70 fyke net traps to determine the average number of juvenile fish within the estuary during particular months of the year.  The scientists also collected data on fish diet, origin (hatchery or wild), and growth rates.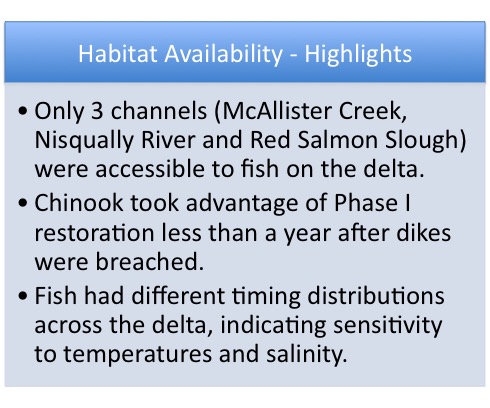 Learn more about pre-restoration habitat opportunity here!
The Nisqually Delta's "opportunity" is the ability of juvenile salmon to access the estuarine habitat. This was measured through the density and timing of salmon use of different habitat types, using fyke trapping and beach seining to capture the fish. The study allowed scientists to develop an understanding of fish distribution and abundance before restoration took place.
In general, fish abundance peaked in May, and was dominated by hatchery Chinook. The peak continued into June, which was dominated by shiner perch, followed closely by hatchery Chinook.
The initial study area also examined fish opportunity at a restoration unit that was restored in 2002, known as Phase I Restoration. Although Phase I was a smaller restoration unit, the study allowed scientists to make informed predictions on habitat responses to larger scale restorations, such as the 2009 one. The scientists found that hatchery and natural Chinook took advantage of the Phase I restoration unit less than a year after dikes were removed.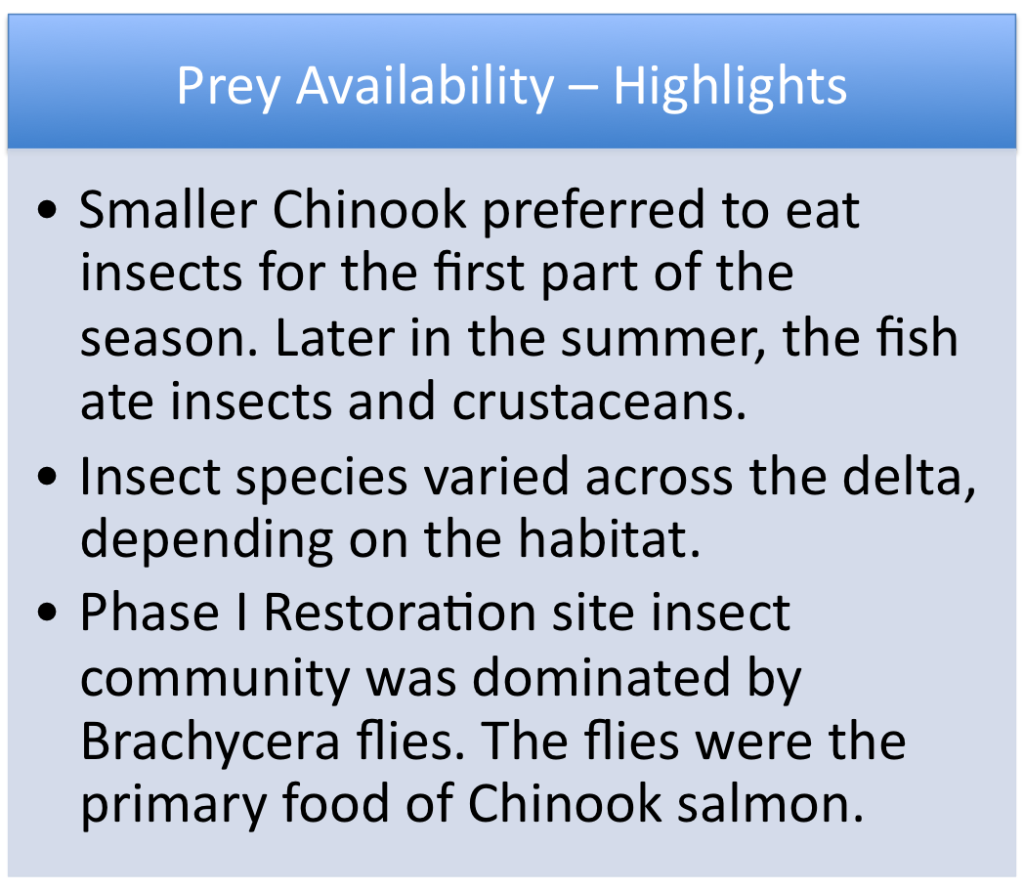 Learn more about pre-restoration prey capacity here!
The "capacity" of the delta to support fish is measured by the abundance of salmon prey organisms by using benthic core sampling, insect fallout trapping and neuston sampling.
Different monitoring sites across the estuary had different terrestrial invertebrate communities. Invertebrate communities shifted depending upon season, too. For example, the Control unit was dominated by Chironomidae in March, but by Brachycera and Homoptera in July. In general, insect density increased as the summer went on. The Phase I Restoration site, for instance, had 468 insects/m² in March, but leapt to 5,337 insects/m² in July.
While in the estuary, hatchery and natural Chinook relied on a variety of insects, epibenthic and planktonic crustaceans, as well as other invertebrate organisms. In general, the smaller Chinook consumed insects. As the summer progressed and the fish grew, the diets shifted to a mix of insects and crustaceans. In addition, natural and hatchery Chinook ate similar foods in similar habitats.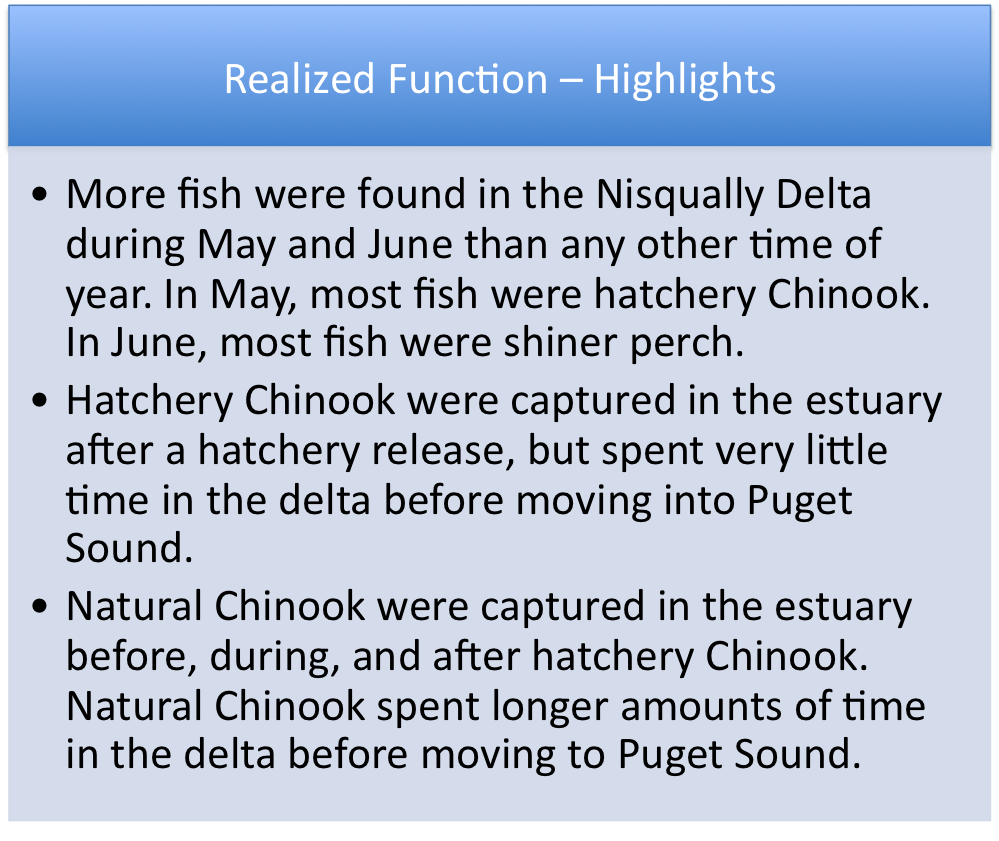 Learn more about pre-restoration realized function here!
The realized function of Nisqually delta habitat can be assessed by measuring the direct physiological or behavioral changes in fish when occupying the habitat. In other words, realized function measures on-the-ground fish use of a habitat's opportunity and capacity. This was measured through diet composition, otolith analysis and invertebrate sampling.
By comparing invertebrate populations to fish diet compositions, scientists were able to understand if fish ate prey available in a particular location, and what foods made up the bulk of their diet. This is known as the "percent similarity index" (PSI). At the Phase I restoration site, invertebrate trapping revealed a high number of flies. Chinook diets had a very high PSI when compared to fallout traps. On the other hand, Chinook diets had no PSI when compared to benthic invertebrate communities at the same site.
Before the restoration, some juvenile Chinook used the estuary habitat to adjust to changing water conditions, known as the "Delta Users life history." On average, wild Chinook salmon resided in the estuary for 16 days, and grew 36% faster in the delta than in freshwater.  Other fish simply migrated from freshwater directly into Puget Sound, following the "Fry Migrants life history." These fish tended to enter Puget Sound at a smaller size.
One of the major reasons for the 2009 Restoration was to improve habitat conditions for Chinook salmon as they leave the freshwater and journey to the Pacific Ocean. Chinook salmon are threatened species, but are vitally important for the entire Puget Sound ecosystem, as well as for countless people that rely on them for food. The 2009 Restoration Project presented a unique opportunity to monitoring the impacts of a large scale restoration on fish populations. However, it would be impossible to determine the "success" or "failure" of a project without understanding conditions to start.
The baseline monitoring provided scientists a working template of fish ecology as it had been for the 100 years that Brown's Farm Dike was in place. Once the dike was removed, all future monitoring can be compared to that template. This makes it easier to talk about strengths and weaknesses of the delta restoration.
Read more:
Barham, J. Nisqually National Wildlife Refuge Estuary Restoration Project: 2008-2011. Nisqually National Wildlife Refuge. Olympia, Washington.
Ellings, C.S. and S. Hodgson. 2007. Nisqually Estuary Baseline Fish Ecology Study: 2003-2006. Nisqually National Wildlife Refuge and Nisqually Indian Tribe. Olympia, Washington.
Simenstad, C.A., and J.R. Cordell. 2000. Ecological assessment criteria for restoring anadromous salmonid habitat in Pacific Northwest estuaries. Ecological Engineering 15:283-302.